The Digital ImageMaker International Interactive Portfolio series comprise digital volumes that profile the work of leading photographers and digital artists, as well as early to mid career artists and photographers whose work we believe deserves more notice. The apps aim to make full use of the power of the iPad. These portfolios include audio commentary, video tutorials and discussions as well as stunning imagery and real insights into the way the profiled artists work.
As well as covering established and well know artists and photographers, we see this series as an opportunity to discover and show the talent that is out there and yet not as widely seen as it deserves. Hence we will be mixing well know with unknown artists and photographers in this series.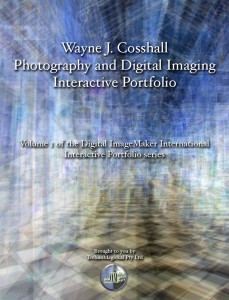 We are currently working with leading artists and photographers to bring you more volumes in this series. We are also interested in hearing from artists and photographers who believe their work would work well in this format.
Our design allows us to readily handle artists and photographers whose work is in still image, video and web-based art so long as it is Java based and does not use Flash (or can be redeployed in a way that does not use Flash). So we can handle generative art done in processing.js, for example.